In today's global economy, manufacturers must compete with companies from all over the world.
To remain competitive manufacturers must employ state-of-the-art manufacturing techniques and technologies by implementing traceability in manufacturing.
Traceability software helps businesses to track and trace the movement of products, parts, and materials throughout the supply chain.
Ultimately, traceability can help any company become a more efficient and successful parts manufacturer. This is particularly true for companies in the Automotive sector.
Importance of traceability in manufacturing
Why is traceability important for automotive parts manufacturers?
According to the Society of Indian Automobile Manufacturers (SIAM), the number of vehicle recalls in India has significantly increased in recent years. In fact, over the last 5 years, there has been an uptick in the # of vehicles recalled with a 36% CAGR by 2021. This has led OEMs to demand more stringent Traceability requirements from their Tier 1 & Tier 2 suppliers.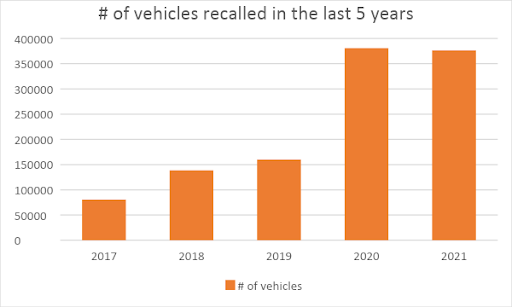 Typically recalls cause significant financial and reputational losses to OEMs. Its critical to have a comprehensive recall process that is augmented by technological automation.
Most Automotive OEMs have a zero-defect policy, in turn they encourage component manufacturers who perform well on zero-defect parameters and penalize those that do not. In case of a recall, traceability is central to any damage control efforts.
The increase in volumes requires a real time parts management system not just for OEMs but also for their Tier 1 and Tier 2 suppliers. Literally speaking, vehicles need virtual identity cards at the component level.
What are the key elements of traceability?
A robust end-to-end traceability solution should be able to track the following key elements:
Receipt of Raw materials from supplier
Where and for how long were they stored in the stores/warehouse
Quality approval parameters
Who issued what raw materials into which process and when and how much quantity was issued
Product (Raw material, semi-finished goods, finished goods) movement from one process to another in the production line
For full visibility and compliance, you need to have traceability from raw materials and parts to shipment, and reverse traceability, back from customer shipment all the way to raw material or parts receipt.
Codentrix has developed a SaaS application called Tracerbee which provides end-to-end Traceability capabilities for medium to large component manufacturers with the kind of granularity and automation that give the OEMs confidence about their component manufacturer's capabilities to support a recall or quarantine request.
How do you track products shipped to customer and respond to product recalls?
A tracking solution with AIDC technology (barcode, QR code or RFID tags) is a cost-effective way to track it. You need a system of record that potentially supports mobile devices that could make the entire traceability solution much simpler and effective.
The traceability solution should contain necessary information to track a defective product. The ability to uniquely identify a part or a batch is at the core of this whole recall management system. Then the manufacturer can isolate the parts/batch and initiate steps to recall or quarantine the defective parts/batch and all other parts that belong to the same batch.
Tracerbee provides a powerful dashboard that allows you to drill down into each area at a granular level so that you will be able to track an item from RM to FG and reverse as well.
Strengthen your product tracking capabilities with Tracerbee
Tracerbee is a cloud-based application to solve your traceability needs. It enables companies to track a batch/part uniquely within your entire Production line giving you end-to-end visibility. Using a system that includes full traceability can give you a greater chance of avoiding an expensive recall event and also give your OEMs the confidence that you have the right systems and processes in place.
If you're looking for traceability in manufacturing, Automobile to Aerospace and Pharma, contact Codentrix Technologies to request a demo of Tracerbee .
We provide comprehensive traceability solutions that help you track and manage your inventory.
Learn more about our Traceability Software and Solution.

Importance of traceability in manufacturing | Traceability Manufacturing|Traceability Software|Traceability Software In Chennai|Traceability Solutions|Traceability Solutions In Chennai